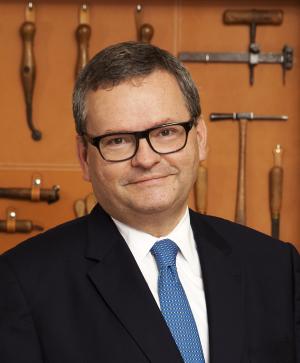 "The Fondation d'entreprise Hermès attentively listens to and engages with the wider world, cultivating authenticity and diversity through its firm commitment to public-interest initiatives across four themes: the transmission of skills, the creation of works of art, the protection of the environment, and the encouragement of gestures of solidarity.
Our ability to meet the great challenges facing society today – poverty and discrimination, the quest for lasting peace, equal access to education, and the preservation of natural resources, to name but some – depends on our capacity to harness our shared intelligence in a search for culturally focused, humanist responses.
In a complex, unpredictable world where globalisation all too often means standardisation, an impoverished world view and bland, homogenised tastes, the Fondation d'entreprise Hermès reflects the distinctive voice and deep artisan roots of the house of Hermès, with its long history of social solidarity based upon mutual support and collaboration."
Olivier Fournier
President of the Fondation d'entreprise Hermès
Download the 2022 Activity Report
The Board
Henri-Louis Bauer

Chairman of the Executive management board, Emile Hermès SARL

Ménéhould de Bazelaire

Director Cultural Heritage, Hermès International

Gilles Boeuf

Professor at the University Pierre & Marie Curie/Sorbonne Université ; Chairman, Scientific Board of the French Agency for Biodiversity

Julien Berjeaut

Cartoonist and author ;

Valérie Burguière

Human Resources Development Manager, Hermès Femme; Staff Representative, Hermès Sellier

Charlotte David

Executive Vice-President of Communications - Member of the Executive Board, Hermès International

Edna Dumas

Journalist; Secretary, Fondation d'entreprise Hermès

Pierre-Alexis Dumas

Hermès Artistic Director - Member of the Executive Board, Hermès International

Bernhardt Eichner

Managing Director, Hermès Service Group; Deputy Treasurer, Fondation d'entreprise Hermès

Jérôme de Lavergnolle

Chief Executive Officer and Chairman, Cristallerie Saint-Louis;

Olivier Fournier

Executive Vice-President Corporate Development and Social Affairs of Hermès International - Member of the Executive Board, Hermès International; President, Fondation d'entreprise Hermès

Julie Guerrand

President, H51

Pascale Mussard

President of the Executive Board, Villa Noailles, Hyères; Vice-President, Fondation d'entreprise Hermès

Jean-Baptiste Puech

Actor; Secretary, Fondation d'entreprise Hermès

Cynthia Fleury

Administrator, MCA – Maison de la Culture d'Amiens; President, Société des Amis du musée de Cluny, Paris

Laurent Pejoux

Director of Cultural and Philanthropic Projects, Hermès International; Director and General Secretary, Fondation d'entreprise Hermès

Cyrille Violot

General Counsel Compliance, Hermès International

Marc Voinchet

Director, France Musique Radio, Paris

Amélie Wattel

Auditor of Accounts

Jean-Claude Florant

Treasurer General, Fondation d'entreprise Hermès
Henri-Louis Bauer

Chairman of the Executive management board, Emile Hermès SARL

Ménéhould de Bazelaire

Director Cultural Heritage, Hermès International

Gilles Boeuf

Professor at the University Pierre & Marie Curie/Sorbonne Université ; Chairman, Scientific Board of the French Agency for Biodiversity

Julien Berjeaut

Cartoonist and author ;

Valérie Burguière

Human Resources Development Manager, Hermès Femme; Staff Representative, Hermès Sellier

Charlotte David

Executive Vice-President of Communications - Member of the Executive Board, Hermès International

Edna Dumas

Journalist; Secretary, Fondation d'entreprise Hermès

Pierre-Alexis Dumas

Hermès Artistic Director - Member of the Executive Board, Hermès International

Bernhardt Eichner

Managing Director, Hermès Service Group; Deputy Treasurer, Fondation d'entreprise Hermès

Jérôme de Lavergnolle

Chief Executive Officer and Chairman, Cristallerie Saint-Louis;

Olivier Fournier

Executive Vice-President Corporate Development and Social Affairs of Hermès International - Member of the Executive Board, Hermès International; President, Fondation d'entreprise Hermès

Julie Guerrand

President, H51

Pascale Mussard

President of the Executive Board, Villa Noailles, Hyères; Vice-President, Fondation d'entreprise Hermès

Jean-Baptiste Puech

Actor; Secretary, Fondation d'entreprise Hermès

Cynthia Fleury

Administrator, MCA – Maison de la Culture d'Amiens; President, Société des Amis du musée de Cluny, Paris

Laurent Pejoux

Director of Cultural and Philanthropic Projects, Hermès International; Director and General Secretary, Fondation d'entreprise Hermès

Cyrille Violot

General Counsel Compliance, Hermès International

Marc Voinchet

Director, France Musique Radio, Paris

Amélie Wattel

Auditor of Accounts

Jean-Claude Florant

Treasurer General, Fondation d'entreprise Hermès
Get in touch with the Foundation team